---
Futurepedia is the Back to the Future Wiki, and we are dedicated to providing detailed information on the movie trilogy, the animated series, and all other continuity. We are a community of fans, and we welcome those who wish to help improve and expand Futurepedia for all to enjoy.

Start here to explore the BTTF Universe in images.
Futurepedia now comes in 4 flavors: En, Es, Ja, and Nl
---
In-universe:

Out-of-universe:
---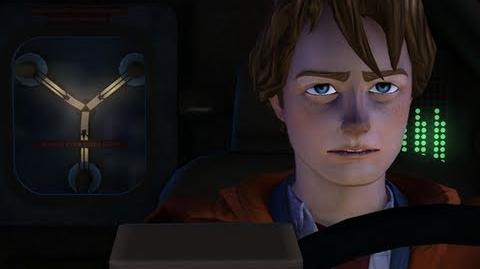 Back to the Future: The Game—
The timeline for the game will be approximately six months after the events of the Back to the Future trilogy. Mike Stemmle, a co-designer at Telltale, noted that various elements from the trilogy will be present, such as Courthouse Square, the clock tower, the DeLorean time machine, and Doc Brown's laboratory. The game will be an adventure, and so will require the player to collect items, solve puzzles, and interact with people in order to complete the mission...
Read more...

---
Marty: "The future, that's where you're going?"
Doc: "That's right, twenty-five years into the future. I've always dreamed of seeing the future, looking beyond my years, seeing the progress of mankind. I'll also be able to see who wins the next twenty-five World Series."
— Doc's original motivation to see the future is now history

---
To create a new Back to the Future article, simply enter it's title in the box below.
If you are new to wikis, please take a moment and visit the tutorial on the Central Wikia
A list of all help pages can be found at Category:Help
---
Back to the Future: The Game

---
Loading RSS data...
Refresh
---
Create blog post
Since we have been in the year 2015 for real by now, and still not everything we saw in the 2015 part of Back to the Future Part II is a reality, I did a cover of a song called Dreamland sung by Bruc…

Read more >
See more >
---
All rights reserved. Back to the Future™ is a trademark of Universal City Studios, Inc. and Amblin Entertainment, Inc.