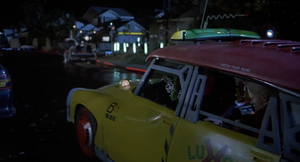 The Luxor Cab Company was a taxicab firm which operated in Hill Valley in 2015.
One of its drivers was Fred, who drove Biff Tannen in Cab B25, a Citroën DS, in pursuit of the DeLorean time machine to Hilldale on October 21.
The taxicab with which the DeLorean nearly collided when it appeared in the wrong lane of Skyway C25 on first arriving in 2015, facing oncoming traffic, may also have been from the Luxor Cab Company.
Appearances
See also
Ad blocker interference detected!
Wikia is a free-to-use site that makes money from advertising. We have a modified experience for viewers using ad blockers

Wikia is not accessible if you've made further modifications. Remove the custom ad blocker rule(s) and the page will load as expected.