Lou's Cafe
Talk

0
1,709pages on
this wiki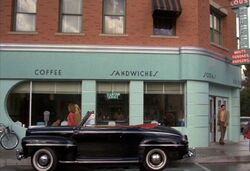 Lou's Cafe was a diner in Hill Valley, located at Hill Street and Main Street. The cafe's owner was Lou Caruthers. Hamburgers were 25 cents, ham and cheese sandwiches were 30 cents, and a chocolate sundae was 15 cents.[1]
Before the founding of the cafe, the site was originally the location of a bar known as the Palace Saloon during the 1880s. During the Prohibition era, the saloon had long since been torn down and replaced with the Sisters of Mercy Soup Kitchen. By 1985, Lou's Cafe had become Lou's Aerobic Center. By 2015, the Cafe 80s had replaced Lou's Aerobic Center.
History
Marty McFly wandered in on November 5, 1955. He showed signs of being unaccustomed to the times by ordering a Tab, which Lou thought meant the bill, and told Marty he had to order something first. Marty then asked for a Pepsi Free, leading Lou to believe he wanted a Pepsi for free, as the drink Pepsi Free was not established yet, before finally settling on "something without any sugar" – a cup of black coffee. He also raised some suspicion from Lou when his digital watch alarm went off while he was trying to call Doc Brown on the cafe's pay phone.
While at the cafe, Marty saw his father, George McFly, as a teenager. He also saw Biff Tannen and his gang. There was also a possible disruption of the original space-time continuum when Marty tipped off Goldie Wilson that one day he would be mayor.
Another major event that occurred at Lou's Diner was George McFly asking Lorraine Baines to the Enchantment Under the Sea Dance and the ensuing altercation between Marty and Biff which led to a skateboard chase around the town square and ultimately ended in Biff's first manure encounter.
Marty sat at Lou's Cafe at the end of his time in 1955 to write a warning letter to Doc Brown about the night he went back in time (October 26, 1985).
Appearances
Notes and references