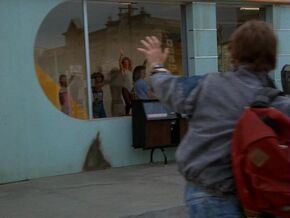 Lou's Aerobic Fitness Center was a fitness center in 1985.
It was located in the Courthouse Square of Hill Valley where Lou's Cafe, the Sisters of Mercy Soup Kitchen, and the Palace Saloon used to be located. By 2015, the Cafe 80's replaced Lou's Aerobic Fitness Center. In the 1985A timeline, the fitness center became the War Zone.
When Marty McFly passed the fitness center on October 25, the ladies working out inside seemed to know him; as he rode by on his skateboard and waved, the ladies waved back. A sign outside the center advertised a year's membership for $65.00.
It is unknown as to whether Lou Caruthers still owned the building by 1985, but this is highly unlikely; as Lou was sixty in 1955, he would have been ninety by 1985.
Appearances