This page is for references to the Back to the Future trilogy from material that doesn't fit in a specific category.
Cars Toons
A cancelled episode, called Backwards to the Forwards, is a parody of Back to the Future, as it has time travelling, as well as making numerous allusions: Mater gets his ability to travel time after being hit by lightning, which is reminiscent of how the DeLorean "time machine" succeeds to get back to the future by being hit by lightning. At the end of the episode, the time-travelling Mater can fly and has retractable wheels, exactly like the DeLorean "time machine". Additionally, the classic clock that Lightning McQueen and Mater look at is made as the one that plays an important role in Back to the Future. However, the episode was cancelled, though in 2012, a final version of the episode, called Time Travel Mater, was made.
Club Penguin
In the Disney owned online game an inventor called Gary, who invented a time machine similar to the DeLorean time machine. Moreover, Gary mostly uses the dialogue Great Scott, similar to Doc.
"The Flux Capacitor" is the name given to the finishing move of the pro-wrestler.
Dragon Story
The preview text for the Holographic Dragon is " "30 years ago, we imagined a future with hoverboards, flying cars, and auto-adjusting jackets."
Fantasy Forest Story
The Deluxe Sleigh can "deliver happiness at 88 smiles per second."
The goal for the Fennec Shox is to "stop it before it reaches 88 miles per hour!"
FireWire (icon)
The icon looks like the Flux Capacitor.
Minecraft
In Minecraft 1.8, there is a chance that "Tougher than diamonds, rich like cream" splash text will appear.
Poptropica
In the online game, an upcoming island called Night Watch Island takes place in a mall called Twin Palms Mall, which is refrence to Twin Pines Mall. Also, if you go to the parking lot, you'll find a Delorean and Marty's red pick-up truck parked. This can also be seen in the preview pictures for the Island tour. [1]
Ronald Reagan's 1986 State of the Union address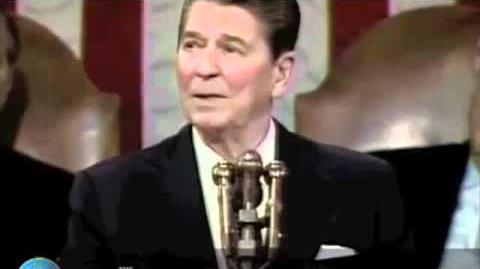 Ronald Reagan referenced the film in his 1986 State of the Union address, stating "As they said in the film Back to the Future, 'Where we're going, we don't need roads'".
Star Wars (fiction)
At the Candidate School at Pensacola, Florida, the final course before graduation was engineering. One of the intentionally wrong answers on a multiple choice question on the test was "flux capacitor".
Flux Capacitor is a fully improvised comedy show at the theatre in New York City that explores the same window of time from many different angles. [2]
WWDC '15
During Apple's WWDC '15 keynote, they introduced a new feature to the Apple Watch called "time travel". Onscreen, it says "*Flux Capacitor sold separately".