LEGO Dimensions is a LEGO action-adventure video game developed by Traveller's Tales and published and distributed by Warner Bros. Interactive Entertainment, for the PlayStation 4, PlayStation 3, Wii U, Xbox One, and Xbox 360. It follows multiple characters from various LEGO franchises after a masked villain breaks into multiple worlds. It follows the "toys-to-life" format, in that the player has LEGO figures and a portal which can be played within the game itself.
BTTF's role in LEGO Dimensions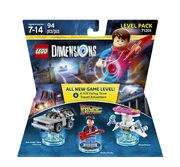 Other BTTF actors in LEGO Dimensions
Though they don't voice any characters from Back to the Future in the game, the other actors include:
Notes
Sources
Ad blocker interference detected!
Wikia is a free-to-use site that makes money from advertising. We have a modified experience for viewers using ad blockers

Wikia is not accessible if you've made further modifications. Remove the custom ad blocker rule(s) and the page will load as expected.