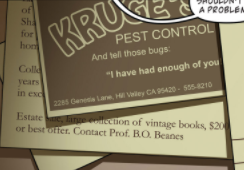 Kruge's Pest Control was an exterminator company in Hill Valley.
The company was located at 2285 Genesis Lane, with the zip code 95420 and the telephone number 555-8210. Its advertising slogan was And tell those bugs: "I have had enough of you!"
A flyer for Kruge's Pest Control was pinned on the bulletin board in Emmett Brown's garage in September 1984, alongside clippings of classified ads from the August 11 issue of the Hill Valley Telegraph.
Appearances
See also
Ad blocker interference detected!
Wikia is a free-to-use site that makes money from advertising. We have a modified experience for viewers using ad blockers

Wikia is not accessible if you've made further modifications. Remove the custom ad blocker rule(s) and the page will load as expected.