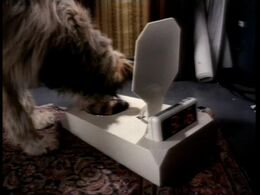 "Fido doesn't seem to mind Doc's experimental sawdust dog food!"
—K-9 Cafeteria advertiser
A K-9 Cafeteria was a device constructed by Emmett Brown. The machine was essentially a timed door that opened to reveal a compartment of dog food.
The device was probably a later/early evolution of a similar automatic dog feeder that was capable of opening and releasing canned dog food into a bowl at a set time.
Appearances
Ad blocker interference detected!
Wikia is a free-to-use site that makes money from advertising. We have a modified experience for viewers using ad blockers

Wikia is not accessible if you've made further modifications. Remove the custom ad blocker rule(s) and the page will load as expected.