Johnny B. Goode
Talk

0
1,663pages on
this wiki
"I guess you guys aren't ready for that yet. But your kids are gonna love it."
—Marty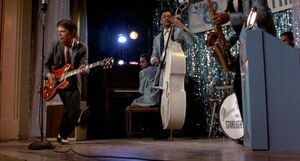 Johnny B. Goode
was the title of the song performed by
Marty McFly
and the
Starlighters
at the
Enchantment Under the Sea
dance on
November 12
,
1955
. Marty introduced the song as "an oldie", and instructed the band to play a
blues riff
for a backup. To the audience and the band it was like nothing they had ever heard of before, to which
Marvin Berry
called his cousin
Chuck Berry
and let him listen to the new sound. As Marty got more erratic with his guitar playing, the audience and band stopped dancing and covered their ears at his last high note.
The Scene
The videos below comprise the scene described above.
If you click on the microphone in the Speakeasy, Marty will start to sing "Johnny B. Goode" on-stage, only to stop before the first lyric.[1]
Behind the scenes
"Johnny B. Goode" was actually composed and first performed by Chuck Berry in March 1958.
Michael J. Fox's performance of the song is one of the signature moments of Back to the Future. Marty's singing was dubbed by Mark Campbell. Fox asked guitarist Paul Hanson to teach him the precise sequence of chords, so that it would appear that Marty's guitar playing would match with the soundtrack. However, guitarist Tim May, rather than Hanson, recorded the actual music. Hanson appeared on film as the bass guitarist for The Pinheads.
Despite Marty's instructions, both Chuck Berry's original recording and the rendition heard in the film are actually played on a "B flat" blues scale, not "B". Nevertheless, Marty's fingers do appear to be playing the song on the "B" blues scale in the film (assuming the guitar is using standard tuning).
On the commentary of the first film, Robert Zemeckis confirmed that the "Johnny B. Goode" scene was nearly cut from the finished film because according to him, it was the only place in the film where the storyline stopped for Michael J. Fox to do the performance. However, Arthur Schmidt, one of the editors of Back to the Future, suggested keeping the scene for the preview screening of the film, and it was finally left in the finished film.
Reference
Appearances