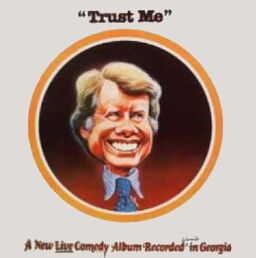 James Earl "Jimmy" Carter, Jr. was the 39th President of the United States. He was elected president in 1976 and was succeeded by Ronald Reagan in 1980.
A poster from his presidential campaign was on the wall of the Blast from the Past antique/memorabilia store in 2015. They also sold Trust Me, a comedy record by Hans Peterson doing an impersonation of Jimmy Carter.
In the alternate timeline where an elderly Biff Tannen traveled from 2015 to 1955 with a sports almanac to make himself rich, Biff fired Bob Woodward and Carl Bernstein after he purchased The Washington Post, which caused the Nixon administration's involvement in the break-in at the Watergate Hotel to remain secret.
Afterward, Biff was able to bribe state legislators into repealing the 22nd amendment of the United States Constitution, which allowed Richard Nixon to seek a third term.
On November 3, 1976, the election results were tallied. Richard Nixon won a third term, and Jimmy Carter returned to farming.
Appearances
External link
Ad blocker interference detected!
Wikia is a free-to-use site that makes money from advertising. We have a modified experience for viewers using ad blockers

Wikia is not accessible if you've made further modifications. Remove the custom ad blocker rule(s) and the page will load as expected.