Jaws 19
Talk

3
1,621pages on
this wiki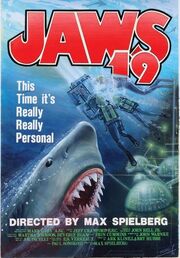 "This time it's REALLY REALLY personal."
—Jaws 19 tagline
Jaws 19 was a holofilm playing at the Holomax Theater in Hill Valley in October 2015, and was directed by Max Spielberg. Apparently critics thought it "lacked the bite" of its 18 predecessors, and rated it low.
An article reviewing the movie, which was titled JAWS WITHOUT A BITE, was billed on the front page of the October 22, 2015 issue of USA Today as appearing in Section D.
On passing the Holomax Theater on arriving in 2015, Marty McFly was 'swallowed' by a gigantic holographic image of the title character created by the building's exterior. Despite this, he still thought the shark looked fake!
Actuality
Bearing in mind that we're still waiting for Jaws 4 thru 18, it doesn't look like there will be a Jaws 19 any time soon...
Behind the scenes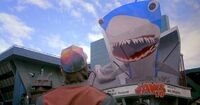 Max Spielberg is Steven Spielberg's son in real life.
The tagline of Jaws 19 is "This time it's really really personal". The tagline to Jaws: The Revenge is "This time it's personal".
Appearances