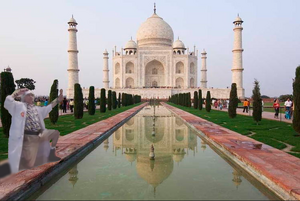 India is a country in southern Asia. One of its most famous buildings was the Taj Mahal, meaning "Crown of the Palace". It was a mausoleum commissioned in 1632 by the Mughal emperor, Shah Jahan, to house the tomb of his favourite wife, Mumtaz Mahal.
In 1993, Doc Brown hung a photograph of himself holding a chicken drumstick in front of the Taj Mahal in his chicken restaurant.
Appearances
See also
Ad blocker interference detected!
Wikia is a free-to-use site that makes money from advertising. We have a modified experience for viewers using ad blockers

Wikia is not accessible if you've made further modifications. Remove the custom ad blocker rule(s) and the page will load as expected.