"I'm afraid you're just too darn loud."
—Huey Lewis' character's famous response to The Pinheads playing.
Huey Lewis (born Hugh Anthony Cregg III on July 5, 1950) is the lead singer of Huey Lewis and The News who wrote and preformed two songs for Back to the Future (The Power of Love and Back in Time).
Behind the scenes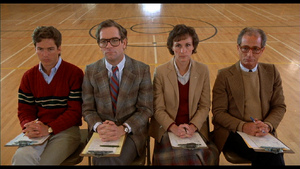 Huey cameoed in Back to the Future as a judge for Battle of the Bands who, ironically, criticizes The Pinheads' cover of "The Power of Love". This scene was intented as an inside joke according to Bob Zemeckis. Huey later stated in a TODAY interview for the BTTF 25th Anniversary, "it was Bob's idea and let's face it, I nailed it." He also said in the same interview: "We thought it would be kind of a nice inside joke you know, if we were uncredited and sort of disguised."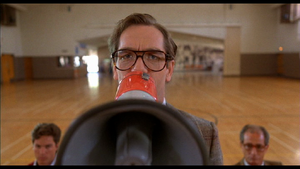 External link
Ad blocker interference detected!
Wikia is a free-to-use site that makes money from advertising. We have a modified experience for viewers using ad blockers

Wikia is not accessible if you've made further modifications. Remove the custom ad blocker rule(s) and the page will load as expected.