Hovercam
Talk

0
1,709pages on
this wiki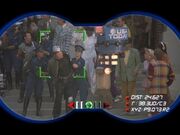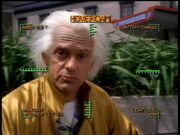 "There! I did it! Doctor Emmett Brown here. Please pardon the crudity of my broadcast signal, but I'm coming to you from the year 2015. I've managed to re-wire this hovercam, so I can beam transmissions to you people back in the present..."
—Doc in 2015
Hovercams were robotic cameras used in 2015 to hover to locations of news stories and report on them in live time. The hovercams were capable of generating a story in a short period of time via the use of Compu-Fax.
One hovercam was seen at the Hill Valley Courthouse on October 26, 2015, where it took the photo for the next day's USA Today headline "GANG JAILED", in which Griff Tannen was carted off to jail for vandalism of public property – as well as quoting Griff's loud exclamation of "I was FRAMED!" at the scene.
Even though we were not able to see it, Emmett Brown hacked into a hovercam to talk to the Time travel volunteers at the Institute of Future Technology. (Back to the Future: The Ride)
In the early 1990s the Doc had a similar camera in which he recorded his video encyclopedia.
Appearances