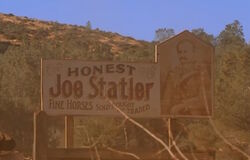 Honest Joe Statler was a business operated by Joe Statler in 1885. It advertised "Fine horses sold, bought, and traded".
The Statler family would continue to operate dealerships in Hill Valley over the course of 120 years.
In 1931, the business was known as Statler DeSoto.
In 1955, the business was known as Statler Studebaker. In 1985, the business was known as Statler Toyota.
In 2015, Statler Toyota was still in operation, as it aired a commercial featuring a descendant of Honest Joe Statler named Jimmy Joe Statler. A Pontiac dealership occupied the location in Courthouse Square where Statler Toyota was located in 1985. It's unknown if this dealership was also owned by the Statler family.
Trivia
Honest Joe makes an appearance in the video game Lego Dimensions, where he is voiced by actor Troy Baker.