The Hill Valley Science Exposition was an event that Mayor Jack Thomas came up in 1931 with to attract investors in the technology field. It was held annually until 1933 at the Hill Valley High School.
1931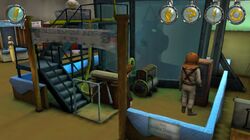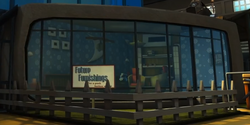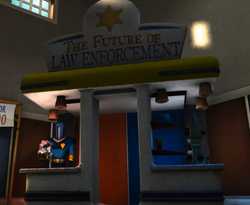 The Expo was held from October 12 to October 15.
Arthur McFly was in charge of handling the money, employment and termination of employees, and contestant registration. Trixie Trotter was given the position of Techne, The Muse of Progress to inspire contestants and present the award to the one who wins. Cue Ball was given the job of making deliveries to the high school. Ernest Philpott (also a contestant) overlooked everything outside the day before the inventions were displayed.
In the front of the school were two displays of Hill Valley during October 12. One being Hill Valley of the Past, and the other being Hill Valley of the Future, with a prediction of how the town would look in 1981.
The exhibits entered were up by the next day. Arthur continued with the sign ups, Trixie handed out the tickets to those attending and Cue Ball looked out for trouble.
October 13 contestant roster
Exhibits were
The expo is held. Nothing of significance was noted.[1]
1933
This was the last year that the expo was held due to the Influenza exhibit leaking into the concession stands.[1]
Appearances
Notes and references
↑ 1.0 1.1 When asked about the expo, Citizen Brown mentioned (in "Double Visions") the Expo being held annually, until the third year.
Ad blocker interference detected!
Wikia is a free-to-use site that makes money from advertising. We have a modified experience for viewers using ad blockers

Wikia is not accessible if you've made further modifications. Remove the custom ad blocker rule(s) and the page will load as expected.