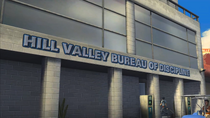 The
Hill Valley Bureau of Discipline
was an organization active in
an alternate 1986
, most likely set up by
Edna Strickland
, the secret ruler of
Hill Valley
. It was adjacent to the restaurant
SoupMo
.
History and Function
The Bureau was apparently responsible for keeping crime in check and the citizens of Hill Valley in line. It was possible that the policemen frequently seen patrolling the town were trained by, and a part of, the Bureau of Discipline. These policemen wore grey unifroms, black pants and boots and helmets with shiny, reflective visors. The Bureau of Discipline seemed to be the alternate timeline's version of the Hill Valley Police Department.
Appearances
Ad blocker interference detected!
Wikia is a free-to-use site that makes money from advertising. We have a modified experience for viewers using ad blockers

Wikia is not accessible if you've made further modifications. Remove the custom ad blocker rule(s) and the page will load as expected.