Marty: "What did you do to your hair?"
Jennifer: "It's the same hair dye I always use."
Marty: "What?"
Jennifer: "Helter Skelter."
— A time-lost Marty McFly questions Jennifer's multicolored hair.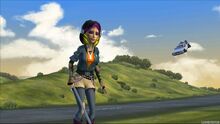 Helter Skelter was a brand of hair dye in the 1980s.
In the timeline in which Emmett Brown turned Hill Valley into a dystopian society, Jennifer Parker began using Helter Skelter to dye her hair as part of her attempt to fight back against the regime. When the Marty McFly from the prime timeline met this Jennifer for the first time, he asked about her hair, as he was used to it being brown rather than black, purple and green. After identifying the dye as Helter Skelter, Jennifer said she wasn't going to have this argument again. Based on her attitude, Marty surmised that Jennifer had won this previous argument with his alternate self.
Appearances
Ad blocker interference detected!
Wikia is a free-to-use site that makes money from advertising. We have a modified experience for viewers using ad blockers

Wikia is not accessible if you've made further modifications. Remove the custom ad blocker rule(s) and the page will load as expected.