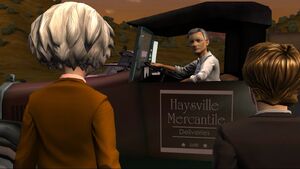 Haysville Valley Mercantile Deliveries was a business which was established in Haysville in 1905 in the alternate timeline where Edna Strickland accidentally burned down Hill Valley in 1876.
William McFly worked for the company in the 1931A timeline. He was seen driving a truck that bared the name.
In the restored 1931 timeline, the business was nonexistent as the company was established in Hill Valley. In its place was Hill Valley Mercantile Deliveries.
Appearance
Ad blocker interference detected!
Wikia is a free-to-use site that makes money from advertising. We have a modified experience for viewers using ad blockers

Wikia is not accessible if you've made further modifications. Remove the custom ad blocker rule(s) and the page will load as expected.