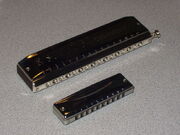 A harmonica was a box through which air could be blown to create sound. In a sequence of chambers, it created notes.
Marty McFly owned a harmonica and played it while back in 1692 Salem, Massachusetts to which it was branded a "Satanic death box".
Marty later played it the night before Comet Kahooey arrived over Hill Valley to which an elderly man at a bus stop recalled the strange alien sounds from 25 years prior.
Appearances
Ad blocker interference detected!
Wikia is a free-to-use site that makes money from advertising. We have a modified experience for viewers using ad blockers

Wikia is not accessible if you've made further modifications. Remove the custom ad blocker rule(s) and the page will load as expected.