Smith & Wesson Model 60
Talk

0
1,654pages on
this wiki
Redirected from Handgun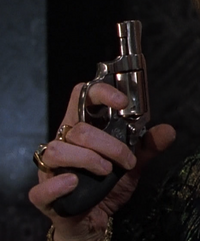 "I suppose it's poetic justice: two McFlys with the same gun!"
A Smith & Wesson Model 60 was the gun owned by Biff Tannen in 1985A. It consisted of a .38 revolver.
History
On October 26, after telling Marty McFly about how he got the sports almanac in 1955, Biff pulled out his revolver, cocked it and repeatedly fired off many shots at a fleeing Marty, missing all of them and destroying valuables instead.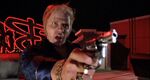 On the roof, Marty pointed out that the police would be able to trace the bullet to that gun. Biff replied by saying that he owned the police, and added that he had shot Marty's father with the same gun; the police had never been able to match up the bullet that time and Biff that he doubted they would match up the one that he intended to shoot Marty with either. Biff was unable to, however, when Marty jumped off the roof (and onto the flying DeLorean time machine).
Appearances