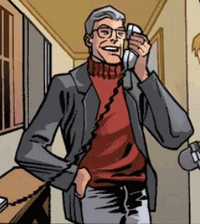 George McFly's agent negotiated the rights to turn George McFly's best selling novel, A Match Made In Space, into a movie.
On March 3, 1986, George was on the phone with his agent. Robert Zemeckis wanted to turn the book into a movie, but George told his agent that he didn't feel that the man who directed Romancing the Stone was the right person to direct it, and told him to continue shopping it around to other directors. It was later made into a film, by an unknown director.
Almost thirty years later, in 2015, the October 22 issue of USA Today reported that Robert Zemeckis was directing the re-make of A Match Made In Space[1].
Appearances
References
Ad blocker interference detected!
Wikia is a free-to-use site that makes money from advertising. We have a modified experience for viewers using ad blockers

Wikia is not accessible if you've made further modifications. Remove the custom ad blocker rule(s) and the page will load as expected.