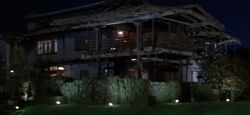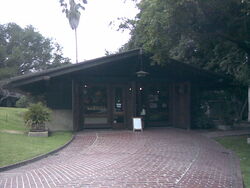 The Gamble House, located at 4 Westmoreland Place, Pasadena, California, is the real life filming location that represented the exterior of Doc's mansion and also contains the garage that appeared on-screen. The house was so named as it was the summer home of David B. Gamble of the Procter & Gamble company.
Because construction work was being carried out at the Gamble House at the same time the film crew was working there, the scenes at the front door of Doc's mansion had to be filmed instead at the nearby Blacker House.
Trivia
Doc says his parents moved to Hill Valley in 1908. The Gamble House, which serves as the Brown home in the movies, was built in the same year.
See also
External links
Ad blocker interference detected!
Wikia is a free-to-use site that makes money from advertising. We have a modified experience for viewers using ad blockers

Wikia is not accessible if you've made further modifications. Remove the custom ad blocker rule(s) and the page will load as expected.