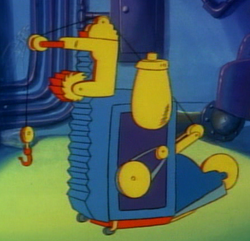 A forklift (also known as a lift truck, fork truck, or forklift truck) is a powered vehicle used to lift and move materials short distances.
In 1991, Doc Brown built a forklift with a hook attachment. It could be collapsed into a handheld carrying case and controlled by remote control. It was intended to be used to carry the DeLorean time machine once it had been folded into a suitcase.
Appearances
External links
Ad blocker interference detected!
Wikia is a free-to-use site that makes money from advertising. We have a modified experience for viewers using ad blockers

Wikia is not accessible if you've made further modifications. Remove the custom ad blocker rule(s) and the page will load as expected.