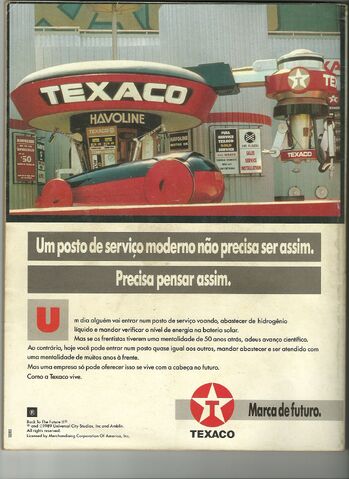 texaco 2015 brazilian advertising 
Enter the description here.  Advertising Texaco was about 3 years in print media and on television one year; this image and a Brazilian advertising which by the way is very rare; The advertising text and this below; a post modern service need not be so, need to think so.
one day someone will put a flying service, supplying liquid hydrogen and have them check in solar energy battery. but if the attendants have a mindset 50 years ago, scientific advancement goodbye. on the contrary, today you will be able to enter a rank equal to other, sendingsupplies and be entertained with a mindset of many years ahead. but a company can only offer this if you live with your head in the future. as texaco lives. Texaco brand's future
File history
Click on a date/time to view the file as it appeared at that time.
Metadata
Ad blocker interference detected!
Wikia is a free-to-use site that makes money from advertising. We have a modified experience for viewers using ad blockers

Wikia is not accessible if you've made further modifications. Remove the custom ad blocker rule(s) and the page will load as expected.