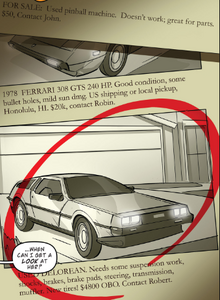 A Ferrari 308 GTS was a model of Ferrari built between 1975 and 1985.
A 1978 model was being sold by Robin from Honolulu, Hawaii, who advertised it in the classifieds of the August 11, 1984 issue of the Hill Valley Telegraph.
According to the ad, which was accompanied by a picture of the car, the Ferrari was 240 horsepower and was in good condition, though it did have some bullet holes and mild sun damage. It cost $20k, with U.S. shipping or local pickup offered.
However, Emmett Brown chose to purchase Robert's DeLorean DMC-12 instead to build his time machine the following year.
Whether Robin ever found a buyer for his Ferrari remains unrecorded.
Appearances
See also
Ad blocker interference detected!
Wikia is a free-to-use site that makes money from advertising. We have a modified experience for viewers using ad blockers

Wikia is not accessible if you've made further modifications. Remove the custom ad blocker rule(s) and the page will load as expected.