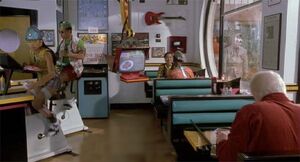 An exercise bike was an exercise machine constructed in the style of a bicycle, with handlebars, saddle and pedals, but was completely stationary.
There were two exercise bikes in the Cafe 80's in 2015 as a reference to both the cafe's time as Lou's Aerobic Fitness Center in 1985 and the returning popularity of trends from the 1980s. A man and and a woman were working out on these, to whom Griff Tannen ordered "Keep pedaling, you two!" after he had thrown Marty McFly, Jr. over the counter.
Behind the scenes
A exercise bike is also known as a cycloergometer, an exercycle, a spin bike or a stationary bicycle.
Appearances
See also
External links
Ad blocker interference detected!
Wikia is a free-to-use site that makes money from advertising. We have a modified experience for viewers using ad blockers

Wikia is not accessible if you've made further modifications. Remove the custom ad blocker rule(s) and the page will load as expected.