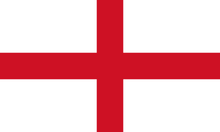 England was a kingdom and a country in Europe. In the 20th and 21st centuries, along with Scotland, Wales and Northern Ireland, it was part of the United Kingdom of Great Britain and Northern Ireland. The Brown family visited England twice during trips into the past.
During the Middle Ages, residents included Harold McFly, Jennivere McFly, and Lord Biffingham.
In 1845, Ebiffnezer Tannen resided in London.
Appearances