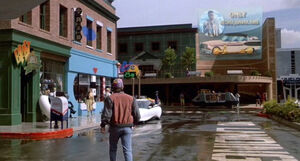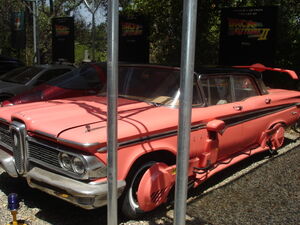 The Edsel was a make of automobile that was manufactured by the Ford Motor Company from 1958 to 1960. It had a reputation of poor workmanship, awkward placement of the driver's controls, and highly unusual styling of the front grille and taillights. It was often the target of jokes since it was one of the biggest failures in automobile history.
Emmett Brown was once given the choice of working on one of three projects: one which was the Edsel.[1]
As Marty McFly started exploring downtown Hill Valley in 2015, he saw a holobillboard advertisement for Goldie Wilson Hover Conversion Systems, which depicted an Edsel as a typical "road car" converted into a "skyway flyer".
Marty thought he saw a hover converted Edsel fly by,[2] but actually a converted Edsel drove around the corner toward him underneath the billboard as Marty watched the advertisement.[3]
The same car could also be seen parked in front of the Texaco service station when Doc Brown sent a message from the future to volunteers at the Institute of Future Technology. [4]
Appearances
See also
References
Ad blocker interference detected!
Wikia is a free-to-use site that makes money from advertising. We have a modified experience for viewers using ad blockers

Wikia is not accessible if you've made further modifications. Remove the custom ad blocker rule(s) and the page will load as expected.