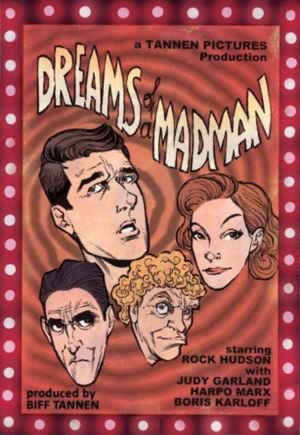 Dreams of a Madman was a film produced by Tannen Pictures in the ABC timeline where an elderly Biff Tannen used the DeLorean time machine and the Grays Sports Almanac to make his younger self a millionaire.
The film starred Rock Hudson, Judy Garland, Harpo Marx, and Boris Karloff. It premiered on November 6, 1960 to scathing reviews.
Bernie Kessoff wasted millions of dollars making the film, which led Biff to send him to bet on a horse race. Unbeknownst to Bernie, the horse track was controlled by the crime boss Deke Dirkin, who had Bernie killed when he mentioned that Biff had sent him.
Appearances
Ad blocker interference detected!
Wikia is a free-to-use site that makes money from advertising. We have a modified experience for viewers using ad blockers

Wikia is not accessible if you've made further modifications. Remove the custom ad blocker rule(s) and the page will load as expected.