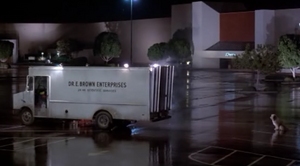 Dr. E. Brown Enterprises was a company in Hill Valley, which was founded by Emmett Brown.
In 1982, it was known as ELB Enterprises. In 1985, Doc had a GMC Value Van that had the wording DR. E. BROWN ENTERPRISES on its sides, and offering 24 HR. SCIENTIFIC SERVICES.
In 2015, it was known as Doc Brown Enterprises, Inc. Its motto was "All science, all the time".
Appearances
Ad blocker interference detected!
Wikia is a free-to-use site that makes money from advertising. We have a modified experience for viewers using ad blockers

Wikia is not accessible if you've made further modifications. Remove the custom ad blocker rule(s) and the page will load as expected.