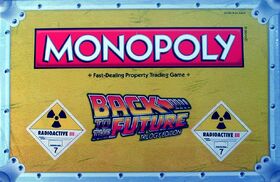 Diamond Select Toys, commonly referred to as simply Diamond Select, is a company that was founded in 1999 in the United States to provide collectibles to children and adults.
They have produced many officially licensed items based on the Back to the Future trilogy.
Back to the Future merchandise
Ad blocker interference detected!
Wikia is a free-to-use site that makes money from advertising. We have a modified experience for viewers using ad blockers

Wikia is not accessible if you've made further modifications. Remove the custom ad blocker rule(s) and the page will load as expected.