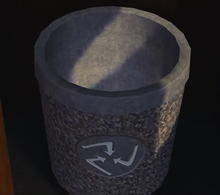 "The final resting place for all contraband within Hill Valley, the decycling bin ensures that socially toxic items will never find their way back into the hands of the general public in any way, shape or form."
The decycling bin was a type of disposal system invented by Citizen Brown in an alternate timeline. It was located in the Hill Valley Courthouse Square near the base of the clock tower. Very few people knew where the decycling bin led to, as, underneath the stone bin, it was a large tube that traveled underground. It was assumed that things thrown inside were incinerated, but in fact they were stored in an underground chamber. The reason for this is unknown.
History
In 1986 of this timeline,
Biff Tannen
, under the influence of his
Citizen Plus wristwatch
and the control of
Marty McFly
, heaved himself headfirst into the decycling bin in order to retrieve certain tapes with evidence that citizens of
Hill Valley
were miserable under the rule of First Citizen Brown and his wife. Shortly after, Marty followed him. In the secret underground room, Marty discovered everything that had been confiscated from the citizens of Hill Valley that had not been destroyed.
Appearances