CusCo
Talk

0
1,709pages on
this wiki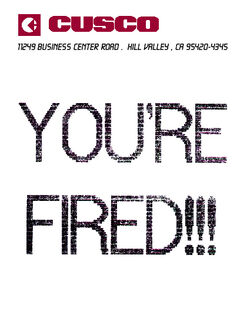 CusCo was a company in Hill Valley in 2015, which was located at 11249 Business Center Road and had the telephone number 95420-4345. Ito T. Fujitsu was a supervisor at the plant, with Marty McFly and Douglas J. Needles working for him.
Needles called Marty on the video telephone to perform an illegal action that would turn profit for him, but "The Jitz" was monitoring and subsequently fired — or "terminated" — Marty from his job, sending a fax with the words "YOU'RE FIRED!!!" on company letterhead.
When his mother saw the fax that Fujitsu sent, Marty tried to claim it was a joke.
When Marty ended up not getting hit with the Rolls-Royce in 1985, the words "YOU'RE FIRED!!!" vanished from the copy of the fax Jennifer took from one of the fax machines in the McFly residence in 2015.
Behind the scenes
On the fax, the zip code for Hill Valley, California, is given as 95420. In real life, 95420 is the zip code for Caspar, California, a town on the Pacific coast in Northern California.
Appearances