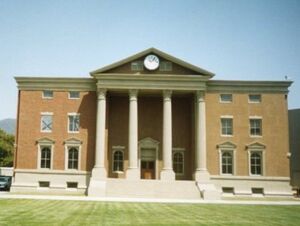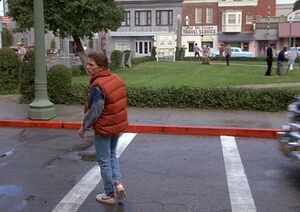 The Courthouse Square was the central point of downtown Hill Valley. It was comprised of a square of buildings surrounding the Hill Valley Courthouse. Hill Street and Main Street intersected at the square. The face of the square changed considerably with certain lots changing numerous hands over the decades. In the period of 130 years, the square went from bustling and prospective, to lively and youthful, to aging and decrepit, to revitalized and techno-modernized.
In the square itself in 1955 were several cannons from World War I.[1] By 1985, the grass had been converted to parking for the Department of Social Services hosted in the Courthouse. By 2015, the parking lot was removed and the square had been converted into an artificial lake and an underground mall.
With Biff Tannen's changing of history by giving his younger self the Grays Sports Almanac, he altered the face of Courthouse Square into a gathering hole for bikers, police, criminals, gamblers, and perverts. His Pleasure Paradise was the centerpiece of his empire centered around BiffCo Industries.
Businesses around the square (clockwise)
Behind the scenes
It appears that in order to go from one side of town to the other, one must go through downtown.
In 1931, a band rotunda existed in the center of the square. This may or may not be a reference to the band rotunda currently standing in the real Courthouse Square in the Universal Studios Backlot.
Appearances
Gallery
Notes and references
Animated views