Courthouse Mall
Talk

0
1,709pages on
this wiki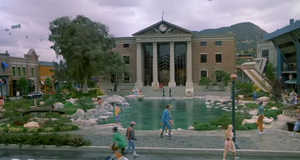 The Courthouse Mall was an addition to the newly renovated Courthouse Square in 2015. It contained 75 stores, which were accessible via a tunnel at the front of the square that led to the shopping area below the manmade lake.
On October 21, 2015, Marty McFly avoided Griff Tannen's gang by jumping in the water, he came out of one of the tunnels.
Behind the scenes
In the novelization, Marty noticed that "The names of the stores below flashed on a 3-D electronic display," (p29) and two of the stores were World O' Transponders and Hydrators Unlimited.
After Marty surfaced for air from the manmade lake, he was next seen walking up from a stairway that led to the Courthouse Mall, after which his jacket dried itself. It's not clear from the film how Marty descended into the mall from the lake. In the novel, he simply climbed out of the pond.
Appearances