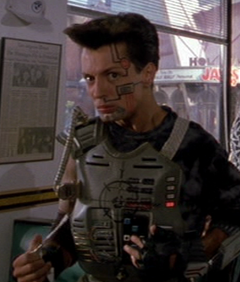 A computerized breastplate was a piece of wearable technology in 2015, which could be programmed to produce certain sound effects.
History
One of these breastplates was worn by a member of Griff Tannen's gang, Rafe "Data" Unger. He used it to produce the sound of a chicken clucking when the gang used this insult against Marty McFly.
Behind the scenes
Actuality
Appearances
References
↑

Chest-based Soundboards - Back to the Predictions (see 'External links' below)
External links
Ad blocker interference detected!
Wikia is a free-to-use site that makes money from advertising. We have a modified experience for viewers using ad blockers

Wikia is not accessible if you've made further modifications. Remove the custom ad blocker rule(s) and the page will load as expected.