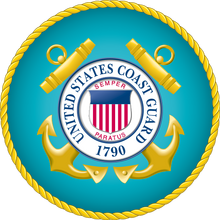 The Coast Guard and Coast Guard Auxiliary were branches of the United States armed forces that were active in 1955 that performed rescues at sea. The Auxiliary was a support organization of civilian volunteers who were 17 years of age or older.
As Marty came downstairs from Lorraine's bedroom, her mother asked how long he would be in port, and that she guessed he was a sailor because he wore a life preserver. Since she was the third person who had never seen a red down vest from 1985, Marty acknowledged her guess, saying, "uh, Coast Guard".
A short time later, when Marty met Emmett Brown for the first time, Emmett tried to read his thoughts using the brain-wave analyzer he had just invented. After two unsuccessful attempts, Emmett noticed Marty's vest, but thought he looked too young to be in the United States Coast Guard or its volunteer auxiliary, so Emmett made a wild guess that he was collecting donations for a Coast Guard Youth Auxiliary, which was either an amazing coincidence, or due to an invention that actually worked.
Appearances
References