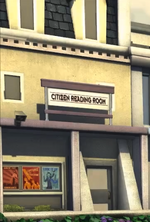 The Citizen Reading Room was a library active in an alternate 1986. It was on the left of E. Brown Industries, and the right of Stemmles's Staycations.
History
In 1931, the location was occupied by Lamont's House of Ermine.
Appearance
The Citizen Reading Room was housed in a three-story building. It had a security camera mounted on it and three posters in the window of the first floor.
Trivia
One of the posters in the window had a picture of Edna Strickland and the words "Look it up", which was one of her most commonly spoken phrases.
Appearances
Ad blocker interference detected!
Wikia is a free-to-use site that makes money from advertising. We have a modified experience for viewers using ad blockers

Wikia is not accessible if you've made further modifications. Remove the custom ad blocker rule(s) and the page will load as expected.