Cholesterol was a fatty substance, which was normally found in animal tissue.
History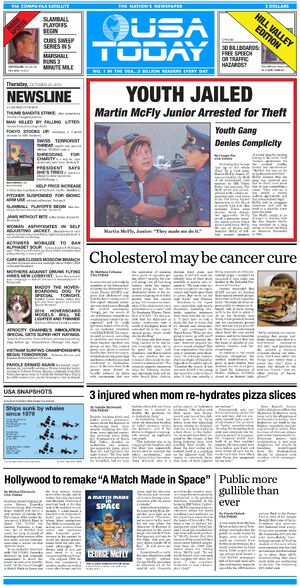 In 1984, Marty McFly met Jennifer Parker at Hill Valley's 7-Eleven and was going to ask her on a date when Douglas J. Needles interrupted them.
The clerk told Needles to either buy something or leave the store, whereupon Needles picked up a bag of Snacky Chips and threw it into the clerk's face, telling him to hold it for him while he browsed the store.
After Needles had finished harassing Marty and Jennifer, he picked up the bag of chips and threw it in the clerk's face once again, saying that he had changed his mind about buying the chips due to the cholesterol content.
According to a news story by Matthew Urbanos on the front page of the October 22, 2015 edition of USA Today,[1] which told of a controversial new study by scientists at the International Center for Alternative Scientific Theory (ICAST), cholesterol was a possible cure for cancer.
Actuality (2015)
According to a study published in the Journal of Biological Chemistry, scientists have discovered that cholesterol could be used to fight forms of cancer such as mesothelioma.[2]
Appearances
See also
References
↑ Special "front page wrap" for real life October 22, 2015 issue of USA Today (see 'External links' below)
↑ Cholesterol May Help Fight Cancers Like Mesothelioma - Asbestos.com, May 15, 2012 (see 'External links' below)
External links
Ad blocker interference detected!
Wikia is a free-to-use site that makes money from advertising. We have a modified experience for viewers using ad blockers

Wikia is not accessible if you've made further modifications. Remove the custom ad blocker rule(s) and the page will load as expected.