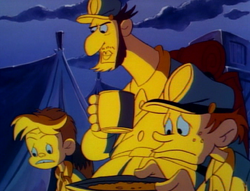 Chipmunk stew is a stew made from chipmunks. As chipmunks are plentiful, and can be caught and turned into a stew without spending any money, it was eaten in poorer areas of the United States.
On February 11, 1864, chipmunk stew was served to the Confederate soldiers under the command of General Beauregard Tannen.
Appearances
Ad blocker interference detected!
Wikia is a free-to-use site that makes money from advertising. We have a modified experience for viewers using ad blockers

Wikia is not accessible if you've made further modifications. Remove the custom ad blocker rule(s) and the page will load as expected.