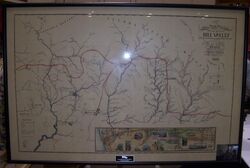 The Central Pacific Railroad was the railroad that transported passengers across California. It made stops in Hill Valley, Fresno, Sacramento, and San Francisco, California. Locomotive 131 belonged to the Central Pacific Railroad. After spending his first night in 1885 at the McFly Farm, Marty followed them the next morning to get to Hill Valley.
As well as the main line, this railroad also had a spur that ran to Shonash Ravine. It was a long, straight, level track that was used by the train that Doc and Marty "borrowed" to push the DeLorean up to 88 miles per hour before falling off the unfinished bridge and plunging into the ravine. After the bridge was completed in 1886, the spur continued on the other side of the ravine, and was still in use in 1985.
Behind the scenes
In 1885, the Central Pacific was under the operation of the Southern Pacific Railway. San Francisco was the end of the line, and just after Sacramento was a stop at a town named Lathrop. Lathrop is Emmett Brown's middle name as revealed in the animated series.[1]
Appearances
References
Ad blocker interference detected!
Wikia is a free-to-use site that makes money from advertising. We have a modified experience for viewers using ad blockers

Wikia is not accessible if you've made further modifications. Remove the custom ad blocker rule(s) and the page will load as expected.