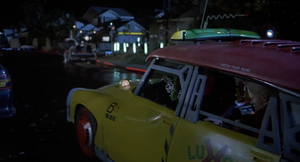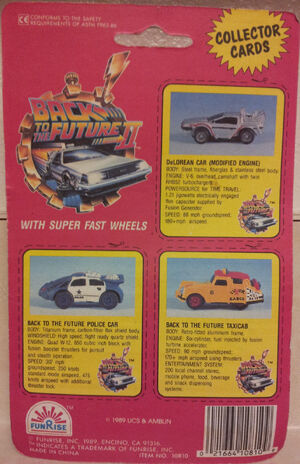 "The oldster [Biff Tannen] pointed a quivering finger at a sleek silver car that was just taking off overhead. / 'Follow that DeLorean!' he croaked. / Follow that DeLorean? That was the sort of thing people said in old, 2-D movies! Where was this old guy coming from? / Still, a fare was a fare. Fred eased the cab out and up."
—From Back to the Future Part II by Craig Shaw Gardner (quote, page 60)
Cab B25 was a flying taxicab from the Luxor Cab Company in Hill Valley in 2015.
History
The cab was a Citroën DS driven by Fred, who drove Biff Tannen in pursuit of the DeLorean time machine to Hilldale on October 21.
It was fitted with six cylinders, and was fuel injected via a fusion turbine accelerator.[1] Cab B25 was capable of 90 m.p.h. on the ground and over 170 m.p.h. in the air with thrusters.[1] It also came with an 'Entertainment System' consisting of "200 local channel stereo, mobile phone, food, beverage and snack dispensing systems".[1] A warning to embarking passengers, WATCH YOUR HEAD, was printed on the roof above the rear doors.
The taxicab with which the DeLorean nearly collided when it departed from Lyon Estates in 1985 and appeared in the wrong lane of Skyway C25, facing oncoming traffic, was also a Citroën DS. Whether this was Cab B25 or another cab of the same make and model remains unclear.
Behind the scenes
The Citroën DS was marketed from 1955 to 1975, so had such a vehicle appeared during the 1955 sequences in Back to the Future it wouldn't have looked out of place.
The same Citroën DS used as Cab B25 reappears later in Back to the Future Part II as one of the wrecked vehicles in 1985A.
The cutout Collector Card for the toy Back to the Future Taxicab on the rear packaging of Funrise, Inc.'s Back to the Future Part II three-vehicle pack, released as part of their Micro Action Super Cars series in 1989 (the other two being the DeLorean Car (Modified Engine) and the Back to the Future Police Car), gives additional information about the vehicle. This was not derived from any information given on-screen or in the novelization.
Appearances
References
See also