Bulletproof vest
Talk

2
1,709pages on
this wiki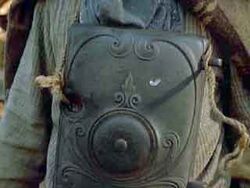 Bulletproof vests were vests that were able to stop bullets from penetrating the skin. Emmett Brown was able to use one after getting a letter from Marty McFly in 1955. It prevented him from being murdered by the Libyan terrorists on October 26, 1985.
In 1985A, Gerald Strickland was seen to wear a bulletproof vest over his nightshirt to protect him from a gang of slackers.
In the movie A Fistful of Dollars, Clint Eastwood's character, the Man With No Name, would use a makeshift bulletproof vest.
Marty himself would use a stove plate as a makeshift bulletproof vest in his gunfight with Buford Tannen on September 7, 1885.
In 1931, Marty suggestd supplying Doc with a bulletproof vest to protect him from the gunfire of Kid's gang. Doc states that it wouldn't work with the number of bullets they would use.
Appearances