Buck (On the right)
Biographical information
Physical description
Gender
Male
Behind-the-scenes information
Played by
Mike Watson

  [Source]
"Take a gander at them moccasins. What kind of skins is them?"
—Buck
"Reach, blacksmith!"
—Buck to Doc after he and Ceegar fired their guns
Buck was a member of Buford's gang in 1885.
Biography
Buck was the shortest member of the gang, wore his hat flattened on top, and usually stood to the left of the other gang members (on the right when facing the group).
Behind the scenes
Buck was portrayed by Mike Watson. He was never called by name in the film; his name only appeared in a screenplay of Back to the Future Part III. He was called "Buford's gang member #3" in the credits.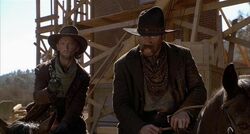 Appearances
Ad blocker interference detected!
Wikia is a free-to-use site that makes money from advertising. We have a modified experience for viewers using ad blockers

Wikia is not accessible if you've made further modifications. Remove the custom ad blocker rule(s) and the page will load as expected.