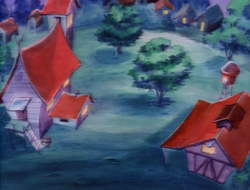 The Brown farmhouse was located outside of Hill Valley. By 1991, Doc Brown and his wife Clara Clayton lived there part time[1] with their sons Jules and Verne, and their dog Einstein.
Doc had a large lab where he created inventions in the barn, located in the back yard.
Appearances
References
↑

The first issue of Harvey's Back to the Future comic revealed that Clara commuted between the 19th and 20th centuries.
Ad blocker interference detected!
Wikia is a free-to-use site that makes money from advertising. We have a modified experience for viewers using ad blockers

Wikia is not accessible if you've made further modifications. Remove the custom ad blocker rule(s) and the page will load as expected.