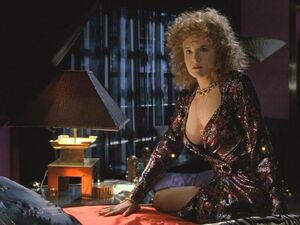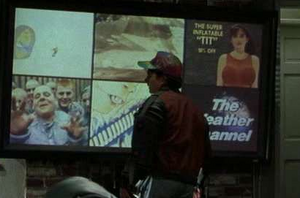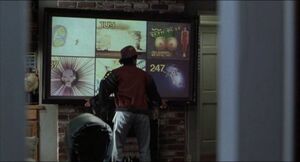 Breast implants were implants used to enlarge the female breast. Lorraine Baines McFly Tannen was forced to get implants when she married Biff Tannen in the 1985A timeline.
Discarded silicone breast implants could be seen in the alley where Emmett Brown and Marty McFly landed when they arrived in 2015, discarded as trash by Fusion Industries.[1]
After Doc ran up the alley to locate Martin McFly, Jr., he observed Marty Jr. walking past a plastic surgery store, which was advertising a sale that week on breast implants. Though the name of the store was not visible, a television commercial shown later that day referred to a similar sale.
Later, while Jennifer Parker was inside her future home, she observed Marty Jr. watching six television channels simultaneously on a multi-channel video screen. On Channel 63 (in the upper right hand corner) was a commercial for Bottoms Up, a plastic surgery store of that era, which was offering two special types of breast implant as part of its "2 for 1 sale" — "the Super Inflatable 'TIT', for that last minute adjustment", and "the Headlight 'TIT'".
Appearances
References
See also
Ad blocker interference detected!
Wikia is a free-to-use site that makes money from advertising. We have a modified experience for viewers using ad blockers

Wikia is not accessible if you've made further modifications. Remove the custom ad blocker rule(s) and the page will load as expected.