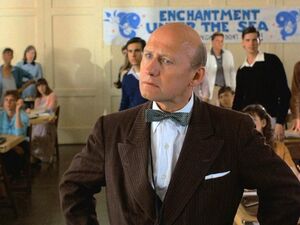 A bow tie (also sometimes spelled as bowtie or bow-tie) was a necktie worn tied around the neck in a bow.
It was part of the everyday attire of principal Stanford S. Strickland at Hill Valley High School in both 1955 and 1985. However, it remains unknown as to whether Mr. Strickland also wore a bow tie at any time outside of school hours.
Unlike the multiple ties and the transparent necktie, the bow tie was not known to have a futuristic equivalent in 2015.
Appearances
See also
Ad blocker interference detected!
Wikia is a free-to-use site that makes money from advertising. We have a modified experience for viewers using ad blockers

Wikia is not accessible if you've made further modifications. Remove the custom ad blocker rule(s) and the page will load as expected.