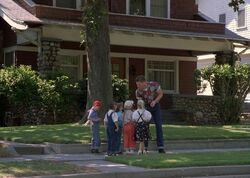 Kids: "Give us our ball back!"
Biff: "You want your ball back? Go it get, ha ha!"
— Biff and his neighbors, just before he throws the ball onto a roof
Biff's neighbors included five children that lived on or near Mason Street. They were playing ball when Biff Tannen walked by them on November 12 and threw their ball onto the roof of another of his neighbors' houses.
Behind the scenes
Appearances