Back to the Future Part II: Intrada Special Collection
Talk

0
Share
Ad blocker interference detected!
Wikia is a free-to-use site that makes money from advertising. We have a modified experience for viewers using ad blockers

Wikia is not accessible if you've made further modifications. Remove the custom ad blocker rule(s) and the page will load as expected.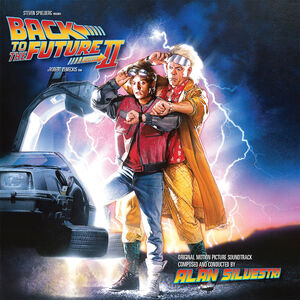 Back to the Future Part II: Intrada Special Collection (Volume 336) is an official 2-CD album including the original motion picture soundtrack composed and conducted by Alan Silvestri for Back to the Future Part II. It was announced by Intrada on October 12, 2015 with CDs shipping the week of October 26.[1]
The first disc features 22 tracks from the original film score, including tracks and segments not previously made available on the 1989 release of Back to the Future Part II: Original Motion Picture Soundtrack, while the second disc of extras features 15 tracks of alternate unused material.
Track listing
Disc 1
The Score
Back To Back / It's Your Kids (2:38)
Main Title (Extended Version) (3:19)
The Future (5:23)
Chicken / Hoverboard Chase (3:12)
A Flying DeLorean? (4:29)
I'm In The Future / Biff Steals DeLorean (2:12)
Chicken Needles / Jenn Sees Jenn (2:55)
Biff's World / 27th Floor (2:08)
My Father (2:04)
"Alternate 1985" (3:04)
Gray's Sports Almanac / If They Ever Did (4:26)
Something Inconspicuous (1:33)
You'll Never Lose / Old New DeLorean (3:18)
Pair O' Docs (1:26)
The Book (4:49)
Nobody / Tunnel Chase (5:45)
Burn The Book (2:24)
He's Gone (0:41)
Western Union (1:52)
I'm Back / End Logo (0:59)
The West (0:57)
End Credits (4:38)
Disc 2
The Extras
Back To Back (Alternate) (1:02)
Main Title (Alternate) (3:54)
The Future (Alternate) (5:23)
Hoverboard Chase (Alternate) (2:50)
A Flying DeLorean? (Alternate) (4:31)
Biff's World (Alternate) (1:34)
If They Ever Did (Alternate Segment) (2:06)
You'll Never Lose (Alternate) (2:52)
Western Union (Alternate #1) (2:04)
I'm Back (Alternate #1) (0:34)
Western Union (Alternate #2) (1:59)
I'm Back (Alternate #2) (0:25)
End Logo (Alternate) (0:17)
The West (Alternate) (1:17)
End Credits (Alternate) (4:38)
References